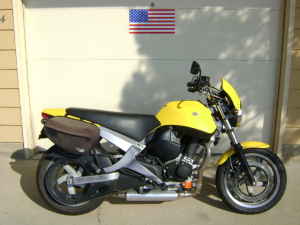 A few weeks ago (three? four?), I put an end to a seven-year famine in my life. It has been seven years since I moved across the country and, as part of the move, sold my motorcycle to a friend (since I had no reasonable way to either transport or store it, and it wasn't terribly valuable). This month, I got a new motorcycle.
The new bike is a 2000 Buell Blast. That's the first year Buell made the Blast. Buell has been a subsidiary of Harley Davidson ever since HD bought the company in the '90s, until HD closed down its Buell division last year "to focus on the Harley Davidson brand." As you should be able to see from the pictures, a Buell is not a gigantic cruiser. Buell started out making racing bikes and their street-legal equivalents. The Blast was created for the express purpose of having a Harley Davidson built "starter bike" that was suitable to use in Harley Davidson motorcycle classes, so HD wouldn't have to buy little Honda 250s for its own bike classes.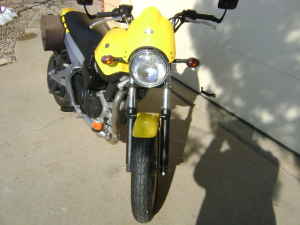 Of course, Harley Davidson's idea of a "small starter bike" is somewhat different from what you'd expect out of a Japanese motorcycle company. The 2000 Blast is a 492cc single-cylinder engine. It's a zippy thing, too. Best of all for my purposes, it's about the closest thing you can get to a UJM these days.
Back in the '80s, the major Japanese motorcycle companies all made a class of street bike that came to be known colloquially as the UJM, or Universal Japanese Motorcycle. A UJM was smaller than a touring bike. It did not recline like a cruiser, with the foot pegs out in front. It did not require the rider to fold his legs under himself to reach foot pegs that were high up the sides and back somewhat. Instead, the rider would just sit upright on a UJM with the foot pegs a comfortable distance pretty much straight down below his hips. My first motorcycle was a UJM, and I found it quite comfortable and well-suited to riding around town.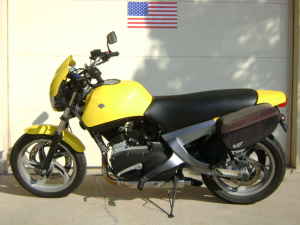 The Blast is built kind of like an old UJM, in that it's not huge, it doesn't recline, and it doesn't "encourage" the rider to hunch forward over the tank all the time. Unlike the general run of UJMs (including my old XJ650 Midnight Maxim), the Blast doesn't have a transverse mounted four cylinder engine — it has that single-cylinder pounder instead. It also has a somewhat smaller engine than my 650 had (about 150cc smaller), but it feels a lot more zippy and powerful, probably because my first motorcycle was in terrible shape. It was, in fact, in such bad shape that it rapidly became apparent it could prove downright dangerous, and as quickly as I fixed stuff, other stuff broke. My favorite was when I was pulling up to an intersection, squeezed the hand brake on the right handlebar, and got brake fluid squirted out of the reservoir across my hand.
I found out that day that it's really difficult to stop a motorcycle using nothing but the engine and the soles of my boots. Thank goodness I had a really solid pair of sturdy motorcycle boots, and nobody drove through the space in the middle of the intersection where I managed to get the thing to stop.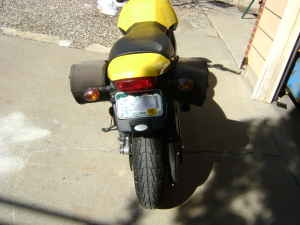 The Blast, by contrast, is in excellent shape. It has been well-cared-for by owners who have loved and ridden motorcycles for decades, and used as an occasional fun ride, secondary to their primary motorcycles — cruisers (they were Harley guys). The man who sold it to me said he was getting too old and slow to handle this bike, and needed to sell it basically so he wouldn't be tempted to ride it sometimes. He's sticking to his touring-cruiser Harley now. He's an awesome old life-long biker with a very impressive white beard and an infectious, laid-back, happy attitude. I should give him a call and let him know how much I'm enjoying the bike; I'm sure he'd be happy to know it's in the hands of someone who appreciates it.
Life has been busy lately, which is basically why I haven't been doing much (any) writing here at SOB lately. The motorcycle is actually one of the things that makes it more busy, though definitely among the least busy-making of those things, and among the most fun. Soon, I'll be getting new boots for motorcycle riding (amazingly, I don't have much in the way of good biking boots right now), and a new motorcycle jacket (not so amazingly, my old leather jacket is falling the hell apart — a zipper actually came apart in my hand recently). The SigO is going to get a helmet, both for times when she might be a passenger and as part of her plan to get a motorcycle endorsement on her driver's license again (she lost hers moving to Colorado years ago).
Hopefully, within a year or so, she'll have a motorcycle too. I'll probably post pictures when the time comes.
note: Those pictures were from before I got the Blast. I haven't changed much, but the license plate has certainly changed.