Sterling has had some things to say about statistics that can be used to describe one's weblog, recently. He commented on Technorati rankings, readability metrics, and even a full bias-disclosure gauge that is lamentably not automatically operated.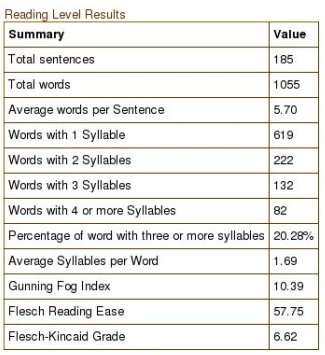 Readability for SOB looks something like this image. You can get your own site readability analysis (as well as an explanation of what some of these terms mean) by clicking the image. The first thing that struck me about the readability measures for my writing is that now, several years after the last time I checked, my "readability" is climbing (which means the "Flesch-Kincaid grade level" is dropping).
The Technorati ranking for SOB is about 238,724 with 139 links from 14 sites detected. Alexa, meanwhile, places my ranking (outside the weblog ecosystem) at about 3,378,473 for the last three months. I've got a long way to go if I want to catch up with Wikipedia. I'm tending to get between 100 and 200 visits a day this month, though of course probably two thirds of those on average are repeat visitors from other days.
Site logs are showing about a 33% advantage for Windows over Linux, in terms of percentages of each OS amongst visitors to SOB. Firefox holds a similar lead over Internet Explorer, though, so Microsoft isn't an undisputed win over open source software. Other operating systems and browsers are showing much more trivial comparative representation here.