I'm watching the Tour de France again. It's a particularly interesting year because Lance Armstrong just unretired to rejoin the Tour. I'm not watching it live, though — I'm recording everything with the DVR so I can watch it at my leisure. This is particularly important, considering that I can run it in the background while I'm working during the week, but on weekends I'm often not really in a position to watch the thing because I'm doing things that require leaving home a lot of the time. Today, I just finished getting caught up with yesterday's third stage, having watched the first and second stages from the preceding weekend.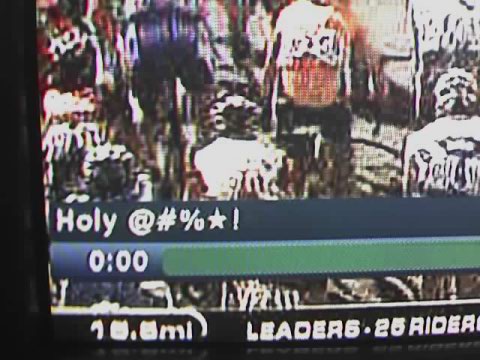 Imagine my surprise when I rewound a little bit to catch something interesting that one of the announcers said, and saw the words "Holy @#%*!" where it should have said "Tour de France".
By the way, the entire Team Astana — the team of which Armstrong is a member this year — was in a breakaway from the peloton yesterday, and finished 39 seconds ahead of the peloton. That moved Lance Armstrong from 10th place, secured during the time trial on Saturday, up to 3rd place overall. I don't know if Armstrong is going to win, because of course that will depend quite a lot on whether he effectively becomes the Astana team "leader" and gets the full support of the team. If someone else is their "leader" through to the end of the Tour, I expect Armstrong to put all his effort into helping that guy win instead. All told, I fully expect Astana to own the top spot at the end of the 2009 Tour, and maybe more than one podium position at the end.
Anyone else rejoining the Tour after four years of retirement would probably be in about 50th place right now, at best. Armstrong is proving, once again, that he's definitely one of the most impressive professional cyclists of all time.
Addendum:
Apparently, Holy @#%*! is the name of a television show that was supposed to come on after the Tour stage aired, but since the live broadcast of the Tour ran long it overran the beginning of the Holy @#%*! show. Comcast just didn't modify the notification of the show's name on the recording when Holy @#%*! was preëmpted.
I thought of the idea that it might be the name of another show, but then figured that was unlikely, since I'm pretty sure the FCC would object to the obvious pronunciation of that (which would probably be "Holy shit!"). It turns out I shouldn't have discarded that notion so quickly. Now, I'm curious how they pronounce it in promotional spots.
Comments Off

on Tour de Holy What?