This is part of my RPG series of entries here at SOB. See the inaugural entry in the series for more details.
In running high level ROLEplaying games, I said:
Keeping high level roleplaying campaigns challenging isn't the same as keeping high level dungeon crawl campaigns challenging. "Challenge" doesn't always have to mean "combat" — and even when it does, the challenge doesn't have to be all the way, all the time. Mix up the types of challenges PCs face, and mix up how difficult they are, so that variety keeps the players on their toes and ensures they stay engaged.
There's a lot more that can be said on that subject, though. That's why I decided to write this SOB entry — to address the subject of keeping high level roleplaying oriented campaigns challenging. Things aren't quite as sraightforward as in a dungeoncrawl campaign, where the game is primarily focused on four major combat encounters per in-game day and "challenge" is measured in hit points and special combat abilities. Because they aren't as straightforward, campaigns that are more roleplaying oriented may not be as easy to handle.
On the other hand, I think they can be more fun. Sometimes, there's a price in extra effort to be paid for a roleplaying experience with more depth, that gets you more involved in the story — in a story that might make you proud. If the extra work wasn't worth it sometimes, you wouldn't be GMing in the first place (unless you're just power mad, and like to screw with players' minds, but we'll just assume that's not the case).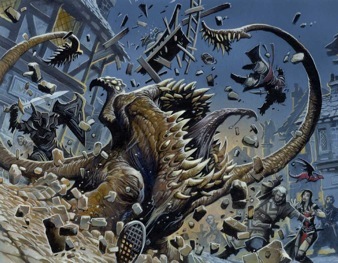 So . . . let's examine the subject of keeping a high level roleplaying oriented campaign challenging:
The challenge of a high level campaign need not be strictly combat oriented. In fact, my preference is to make some combat challenging but, at higher levels, some of it ridiculously easy. Cutting down a little cannon fodder from time to time helps to support the suspension of disbelief really important to any kind of immersion in a roleplaying oriented campaign. Why would characters who have grown so far in power only end up meeting, and fighting, enemies who are similarly powerful? What happened to all the teeming masses of weaklings the PCs used to run into when they were lower level (and found those teeming masses of weaklings a lot more challenging)?
Surely they haven't wiped out the entire kobold race! Surely the kobolds aren't possessed of secret level-divining magics that impart to them the knowledge that the fourteenth level party walking through their patch of woods is out of their league, when the same party was within striking range of their own power level a few short in-game months ago! Why, then, aren't kobolds attacking the party's camp when they pass back through the same patch of woods where kobolds attacked them before? If the kobolds simply recognize the party as people they've attacked unsuccessfully before, maybe the kobolds should use better ambush tactics the second time around (and discover too late that their would-be victims are far more formidable now than they were the last time the kobolds got trounced). I certainly don't see why they'd suddenly be absent from the woods on a later date without some kind of good story driven excuse, in any case.
My preference for handling the problem of keeping the game challenging is not to inflate the general run of enemies the PCs will encounter, and cut out enemies who have become too weak to really challenge them, but to take one (or both) of two approaches:
I could run a tremendous, epic, world-spanning plotline that leads them deeper and deeper into Big Events that have, in some respect, been planned from the very beginning. As this happens, the PCs will get closer and closer to the main badguys of the plotline, who will naturally be more powerful than their underlings — and higher power underlings will be encountered for very logical reasons, such as the higher ranking badguys' desire to have better bodyguards and assistants than the lower ranking badguys have.

Even while this goes on, though, it should be inevitable that the PCs encounter some low level peons from time to time, and the PCs should be allowed the opportunity to massacre them with consummate ease, giving them a boost to confidence and imbuing the game with a bit of versimilitude upon the realization that yes, the low level peons of the game world still exist. It's fun to be reminded from time to time how bad-ass your character has become, so don't focus on the higher level badguys to complete exclusion of lower level minions. It's also usually a bad idea to assume your players are too dumb to notice that a journey across the same stretch of road has gone from being moderately dangerous for any low level commoner traveling alone to being downright, ridiculously lethal for anyone but überpowerful world-class adventurers, thus effectively making merchant caravans in that area impossible.

As the PCs get more powerful and more well known, they might find themselves increasingly drawn into situations where combat skills are not the only conflict resolution capabilities that are important to success. I like to make use of this sort of thing from the beginning, of course, but I like to change the comparative quantity of such different types of conflict resolution as a campaign progresses. By changing the style of conflict that is most common, I also change the flavor of the conflict, keeping things varied and interesting — and challenging, as high level characters who have been improving combat skills almost exclusively (for instance) suddenly find themselves in need of more social skills (also for instance) to deal with whole new classes of problems. I actually tend to prefer to use this technique for keeping the game challenging regardless of whether I'm using the technique described under point 1 above.
In high level games, there's always the threat of players losing interest in the game as it becomes increasingly obvious to them the only reason the game is still challenging is universal inflation of the power levels of the world's denizens to match the power levels of the PCs. When the continued challenge of the game isn't strictly dependent on toe-to-toe combat (just graduated from low hit die monsters to high hit die monsters), but instead draws upon a wide range of types of challenge, I don't have to live in constant fear of that threat.
I think the end result of mixing up the types and intensity of challenges is not only a far more fun campaign for people who like a roleplaying intensive game, but a far more memorable campaign, too. There's only so many times one can fight whatever the next hit dice level's equivalent to a kobold is before they all start blurring together, after all.